phpBB Style: AcidTech
«
Return to free phpBB styles list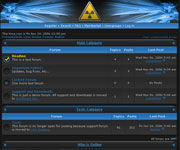 Style Title:
AcidTech
Style Type:
phpBB 2
Style Version:
2.0.3
Compatible phpBB 2 Version:
2.0.5 - 2.0.23
Color Schemes:
blue, red, green, purple, yellow
Downloads:
Installation:
Please visit this link for style installation tutorial.
Support:
Customization:
If you would like a custom color scheme or any modification done to this template you may submit a request by using the contact form. Please describe what you want to be done in detail, and you will receive our reply with the price quoted for the custom work.