phpBB 3 Style: Avalon
«
Return to free phpBB 3 styles list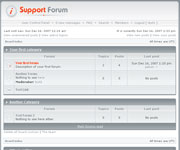 Style Title:
Avalon
Style Type:
phpBB 3
Style Version:
3.0.13 and earlier
Compatible phpBB 3 Version:
3.0.13
Color Schemes:
blue, cyan, green
Demo:
Downloads:
Choose version of phpB's forum and style from the dropdown list and press download button.
Download Language Packs:
Other Downloads:
Custom colors:
Using ColorizeIt! service you can create your own color schemes for this style.
You just move a few sliders to change colors, then select a new name for your style, and click "download".

Notes:
Language packs only include images for the default color scheme. To get language packs for other color schemes, click on the download link for the required color scheme and at the end of the page you'll see an option to include any existing language pack.
Support:
Customization:
If you would like a custom color scheme or any modification done to this template you may submit a request by using the contact form. Please describe what you want to be done in detail, and you will receive our reply with the price quoted for the custom work.