phpBB 3 Style: CA Orbital
«
Return to free phpBB 3 styles list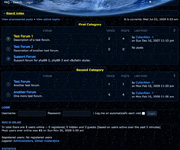 Style Title:
CA Orbital
Style Type:
phpBB 3
Style Version:
3.0.13 and earlier
Compatible phpBB 3 Version:
3.0.13
Color Schemes:
blue
Demo:
Downloads:
Choose version of phpB's forum and style from the dropdown list and press download button.
Other Downloads:
Features:
This style has all usual phpBB 3 features plus much more to offer (these features do not require any changes to phpBB code):
Style is compatible with iPhone.

When scrolling up/down, top navigation is always visible and it stays on top of screen. When you are registered and are viewing topic, it also shows extra links for bookmarking and subscribing to topic. This function is not available to IE6 users.

You can mark any forum as read from forum index. All you have to do is double click it.

New way of a new private message notification that user can't miss, which doesn't use popups.

In viewforum you can now sort topics by clicking on column headers ("replies", "views", "last post").

In posts when post subject is ("Re: " + topic title), its no longer being shown.

You can show/hide categories on forum index, your selection is remembered in cookies.

You can show/hide user's profiles when viewing topic.

Instead of showing many buttons in topic view such as "www", "pm", "jabber", etc.. all extra buttons are shown as popup when you move mouse over poster's name.

You can copy code to clipboard by clicking "copy" link in code's header.
Custom colors:
Using ColorizeIt! service you can create your own color schemes for this style.
You just move a few sliders to change colors, then select a new name for your style, and click "download".

Notes:
Language packs only include images for the default color scheme. To get language packs for other color schemes, click on the download link for the required color scheme and at the end of the page you'll see an option to include any existing language pack.
Support:
Customization:
If you would like a custom color scheme or any modification done to this template you may submit a request by using the contact form. Please describe what you want to be done in detail, and you will receive our reply with the price quoted for the custom work.