vBulletin Style: CA Morpheus
«
Return to free vBulletin styles list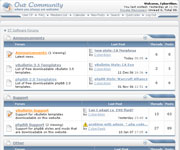 Style Title:
CA Morpheus
Style Type:
vBulletin
Style Version:
1.0.1
Compatible vBulletin Version:
3.6.7
Color Schemes:
blue, gray, green, purple
Downloads:
Notes:
The demo forum only shows postbit_legacy, but the usual postbit is also included in a template.

Almost every template was modified to include rounded headers, not only the index. So xml files are quite big.

The style includes two versions for every color scheme: fixed and fluid width.
Installation:
Unpack zip file, upload contents of directory "upload" to your forum including subdirectories. Use style.xml to install template.
Support:
Customization:
If you would like a custom color scheme or any modification done to this template you may submit a request by using the contact form. Please describe what you want to be done in detail, and you will receive our reply with the price quoted for the custom work.